QFleet moving to a greener future
The Queensland government uses the Green Vehicle Guide to make greener choices for their vehicle fleet by calculating fuel and running costs.
QFleet leases a fleet of around 10,300 vehicles to state government departments, local councils and not-for-profit organisations and uses the Green Vehicle Guide (GVG) website as a valuable source of information for vehicle emissions in the local market.
Damian Plumb, QFleet's Director of Fleet Operations, explained that their vehicle fleet comprises of passenger and SUVs, light commercials, trucks, buses and some bespoke specialised vehicles.
"The GVG is used by QFleet to calculate fuel consumption, help estimate whole of life costs, and to help set the CO2 limits we will allow for vehicles we select in the fleet," Damian said.
"It is a trusted and comprehensive source of information to help fleet operators like QFleet make informed decisions regarding fleet calculations and composition.
"The GVG is also great for those that are interested in EVs and has some great myth busting information and useful tools and tips about EVs."
QFleet is also participating in a 3-year trial of five FCEV Hyundai NEXOs with BOC Australia, bp Australia, ARENA, Hyundai and other government departments.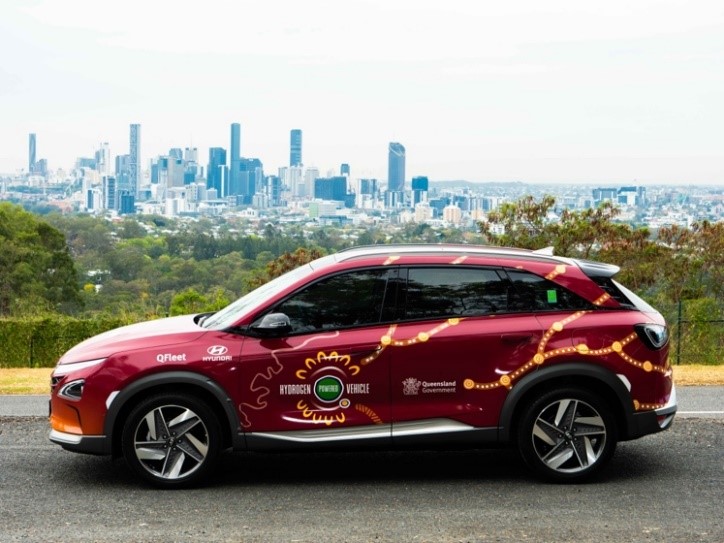 One of QFleet's hydrogen vehicles
The trial is aiming to demonstrate how well suited the hydrogen vehicles are to the delivery of government services.
"Since commencing the trial in July 2021, we've had some great learnings and many opportunities to showcase the vehicles to the public, where they have received a positive response," Damian said.
Damian outlined how QFleet's experiences can help other businesses with their vehicle choices.
"It's important to be clear about what purpose your vehicles need to perform, then research the market using resources like the GVG for which vehicles best suit those requirements," he said.
QFleet is a commercialised business unit within the Department of Energy and Public Works in the Queensland Government.
Find out more:
Back to News
News
Related links
Follow us